Change for the future: go-e shapes tomorrow.
The History of go-e
ABOUT US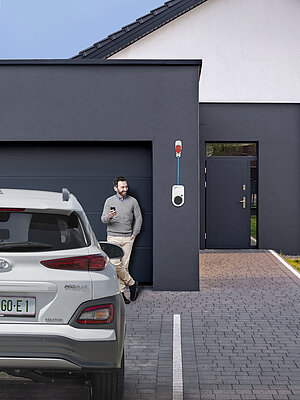 Foundation with the help of crowdfunding

World's first smart, mobile wallbox

Further development to go-eCharger HOME Series

Foundation go-e Labs Berlin (R&D location)

New go-e Charger Gemini series

Market entry Sweden Launch go-e Controller
Change for the Future
OUR VALUES
Innovation
Technological developments and future-oriented thinking are guiding principles in our company. With this in mind, we develop all essential hardware and software components ourselves and enable the connection of devices from other manufacturers via an open API.
Intuition
go-e stands for products that are easy and intuitive to use. Therefore, charging processes with go-e products are Plug & Play or can be easily adjusted, started and stopped according to individual needs - at the push of a button, app or API.
Inspiration
We stand for the development and production of advanced charging stations for electric vehicles and future-oriented behaviors based on them. go-e also carries in its name the credo to move people to new things and to inspire them to a progressive way of life.
Together We Enable Innovation
Our Team
The go-e team keeps growing. Would you like to help us write the history of e-mobility?