777 free go-e Cases for the go-e Charger Gemini flex!
Exclusive Black Weeks offer
The go-e Case is a bag in elegant black and the perfect organiser in your electric car for safely storing a mobile wallbox from go-e and other accessories for charging on the go.
This year, as part of Black Weeks, we are giving away 777 go-e cases as a loyalty bonus to anyone who has purchased the go-e Charger Gemini flex mobile wallbox.
Welcome to our Black Weeks promotion!
And we warmly welcome you to the go-e Research & Feedback Community!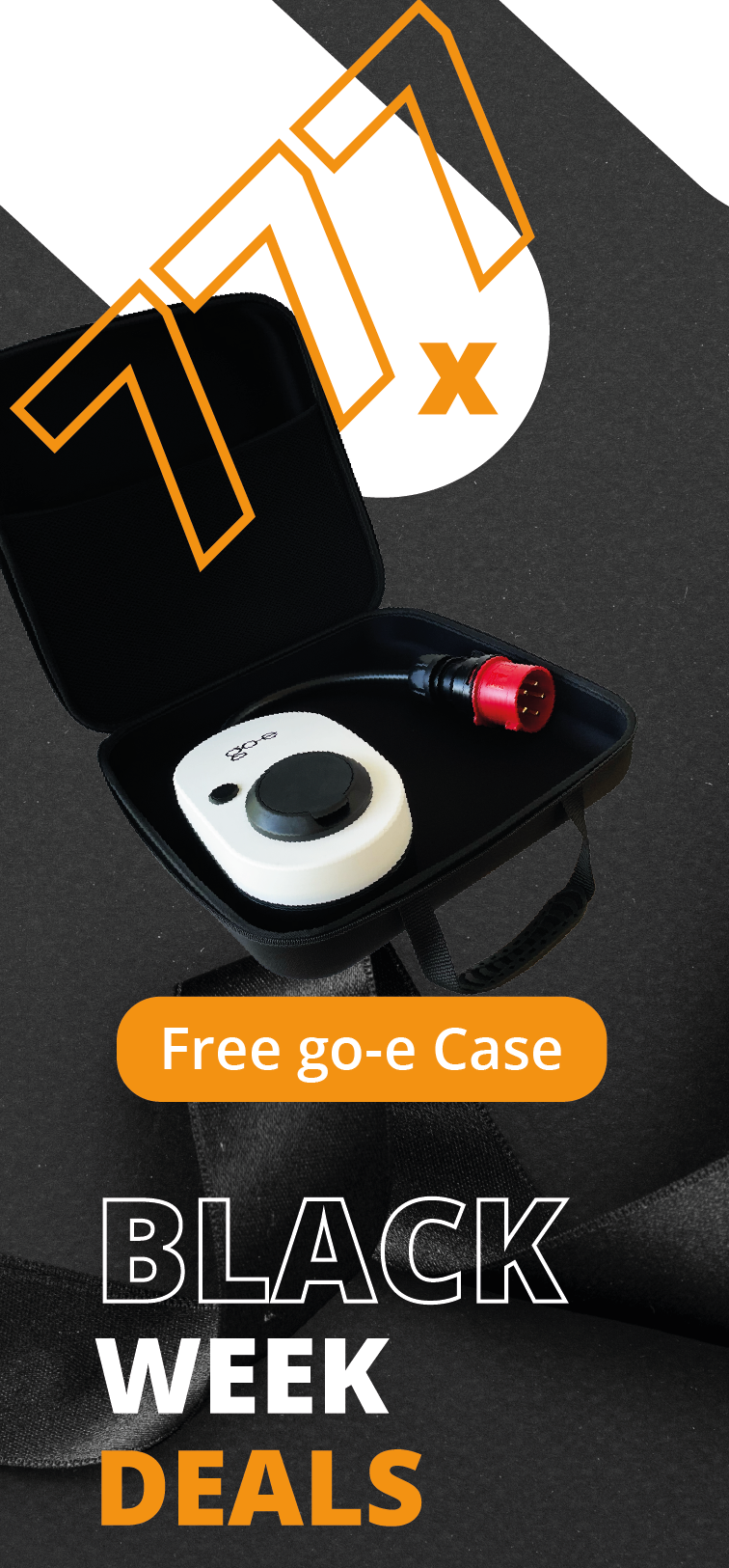 We are pleased that you would like to take advantage of our loyalty bonus. The offer is aimed at all registered or not yet registered customers who use a go-e Charger Gemini flex.

Despite the fact that this is a free offer, in order to receive the free loyalty bonus and the associated client and product registration, you must comply with the terms and conditions of the law.

To place an order, you must first agree to our privacy policy and the processing of your personal data. During the order process for your loyalty bonus, your customer and contact details will be recorded and you will have to answer a few questions for statistical analysis. If you have not yet registered your go-e Charger with us, this process is also a product registration for your existing go-e product(s). By registering your product, you enable our support team to help you even faster in the event of technical questions. At the same time, we will reward you with a free go-e Case worth 38.90 euros. We are also planning further benefits, which we will communicate at a later date.

We would be delighted if you would use our customer loyalty bonus as an opportunity to register with our research community, because with your occasional feedback on our market and opinion research surveys you will benefit from further bonus campaigns and be personally involved in the further development of electric mobility and go-e products.
Consent to the legally required and/or optional framework conditions for this registration is voluntary and can be revoked at any time.
This is how you get the free go-e Case:
You must own a go-e Charger Gemini flex that you have purchased in the go-e Shop or from one of our partners.

Register your go-e Charger Gemini flex using the link below and provide us with the required information as part of the registration process, including, for example, your contact details for product shipping, the serial number* of the wallbox, demographic information and some data about your charging behaviour. In addition, we ask you to register in the go-e community, including consent to legal documents, surveys and notifications. Your information is used in our product development and helps us to improve your user experience.

Dispatch** of the free go-e Case to you as soon as registration has been successfully completed. Please note that the dispatch of the product may take a few days.

Act fast, because the Black Weeks offer ends as soon as 777 go-e fans have successfully registered their go-e Charger Gemini flex.

*The serial number of your Charger can be found on the back of the go-e Charger on the type plate behind the designation "SN:". The serial number begins with GM-. Alternatively, you can find the serial number in the go-e app in the "Internet" tab and the submenu item "Hardware information".
** The free go-e Case can only be sent to EU countries on the basis of product registration.